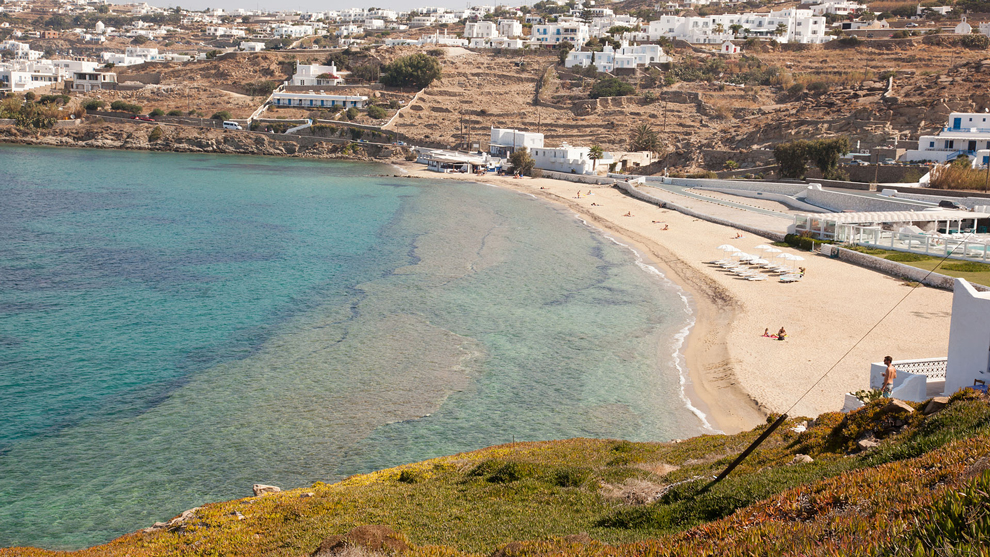 Ten minutes walk from the center of Mykonos Town. Megali Ammos is a beach without any umbrellas and sunbeds because of the fact that there are very strong northern winds. One characteristic about the Megali Ammos beach and in particular of the bottom of the sea there is a huge slab so it makes it a little difficult to swim.
The beach is suitable for windsurfing and undersea fishing. The closest to Mykonos Town, noticable beach.
How to get there
Even by feet on the way to Ornos. Asphalt road in good condition.
Parking 
On the main road above the beach.
Beach Level
Accommodation
Belou Hotel 23 m.
Mykonos Beach Hotel & Bungalows 93 m.
Sahas 160 m.
Despotiko Hotel 173 m.
Adonis Mykonos Hotel 187 m.
Restaurants
Joanna's Niko's Place 39 m.
Merolaya 273 m.
Perfecto 279 m.
Point Cafe 314 m.
Cosmo 316 m.
Fun
Sasa Mykonos 464 m.
Belvedere Bar 464 m.
Space 487 meters m.
Alley 556 meters m.
Astra 572 meters m.