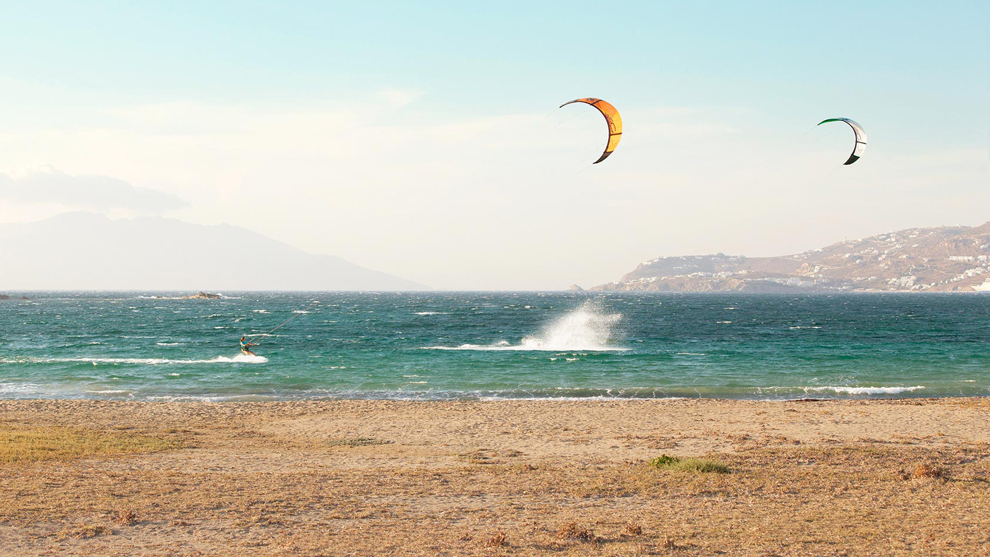 Korfos beach is just before Ornos Beach and at 2.5 km after Mykonos Town. There is a precisely positioned north and in conjunction with the shape of the island results in all of the floating garbage coming from the wider marine area,end up there.
The regular cleaning from the Municipal Port Fund is often of no use and the next morning the strong wind brings back the same garbage on the beach. The beach is a natural paradise for windsurfing lovers because there is a lot of tension in the air remain stable while the shallow depths of favours creats waves, specifically for endless leaps and waveriding!
Finally, the ramp hauling – lifting vessels that exists in western edge of the beach is the benchmark for a quick trip to Delos and the nearby beaches.
How to get there : From the main Mykonos Town to Ornos road. It is an asphalt road and in great condition.
Parking: Along the beach side and on the road there are plenty spots for parking.
Beach Level
Accommodation
Gelos House 104 m.
Peter Studios 198 m.
Elena Studios & Suites 219m.
Vanilla Hotel 221 m.
Asteri Hotel 231 m.
Restaurants
Istories Gefseon Bakery 92 m.
Soulatso 109 m.
Takis 115 m.
Anixi 138 m.
Glaros 225 m.
Fun
Ammos Beach Bar 403 m.
Noo Noo 790 m.
Au Bar 998 m.