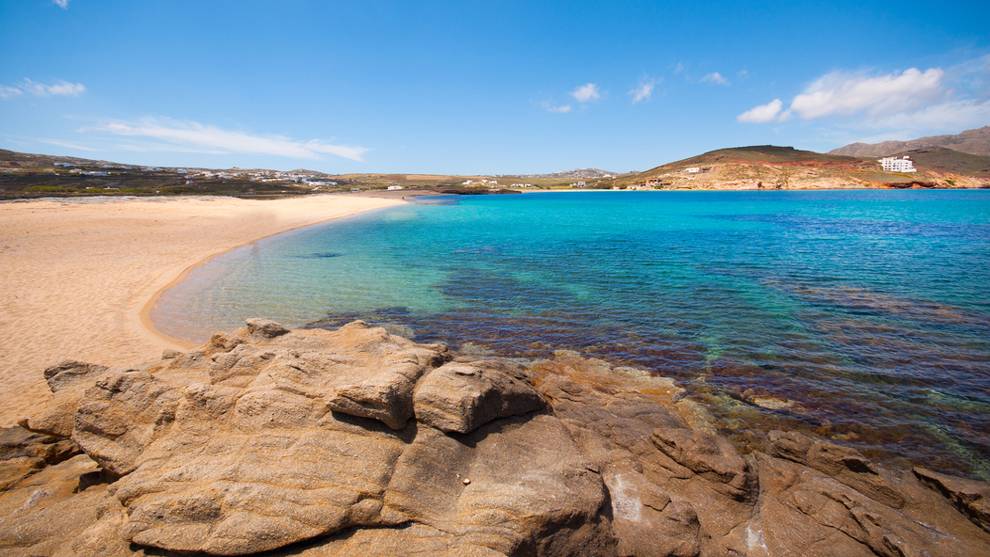 Ftelia beach. Windsurfing – air waves and incredible wind! Ftelia is the best beach for incredible leaps, waveriding and windsurf. North beach located in Panormos Bay with amazing water and sand.
When you are on the western side of the beach Ftelia throughout the landscape it seems like a lagoon especially when there is no wind.
The beach Ftelia is divided in two parts by band rocks leading to the seashore where detected prehistoric facilities of the Neolithic site whose findings are dated to 4,500 BC
In the same position is likely to be accepted by the prehistoric period and the tomb of Aianta of Lokrou, hero of the Trojan War, worshiped in Mykonos.
How to get there
On the way to Ano Mera.Follow the signs. Part of the road is asphalt.
Parking
Along the beach and on the laneways of the road that leads there, there is space for parking of vehicles.
Usually you see caravans and lovers of windsurfing who come and enjoy the amazing waves and the 'clean air'of Ftelia beach.
Beach Level
Accomodation
Ikaros Village 353 m.
Villa Galaxy 637 m.
Anamar Hotel 660 m.
Ftelia Bay Hotel 1017 m.
Restaurants
Ftelia 253 μ.
Cucina Di Danielle 1265 m.
Fun
Las Vegas Showtime 1328 m.