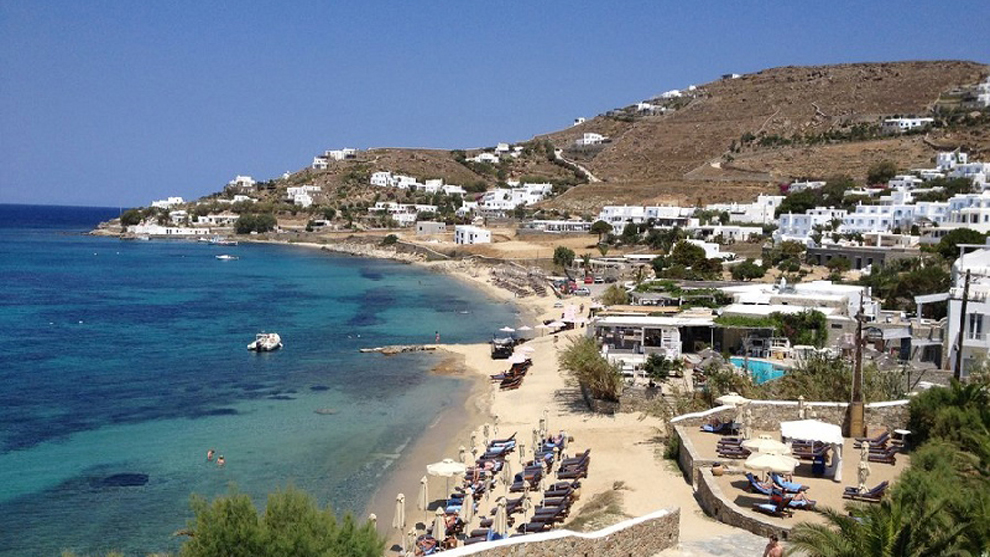 Agios Ioannis beach, looking at Delos and the channel between Mykonos and Delos. It is the beach with the most famous feast of the island, Ai.Giannis at the end of September.
Beach with excellent taverns for lunch, with many villas and four large hotel units.
The beach is recommended for those who want relaxation during their swimming. Water sports, but almost impossible to find umbrellas available at the hotels and restaurants located on the beach.
How to get there 
You can get there by going to Ornos. What characterizes the path just before the beach is the great mouria tree to the left of the road and in front of this a group with great fragkosykies.
It is the last major and organized beach on the area.
Following is the small beach of Kapari. The road is asphalt and in perfect condition. Only 3.4 km From the town of Mykonos.
Parking : 
There is a small square at the end of the road with limited parking space.
Beach Level
Accommodation
Manoulas Beach Hotel 149 m.
Apollonia Resort 230 m.
Manoulas Apartments 344 m.
Mykonos Grand Hotel & Resort 353 m.
Apsendi 373 m.
Restaurants
Ai Yiannis Sunset 81 m.
Bellissimo 182 m.
Glaros 1011 m.
Aperanto Galazio 1036 m.
Konstantis 1051 m.
Fun
Au Bar 393 m.
Ammos Beach Bar 1115 m.