"Armenistis" The Lighthouse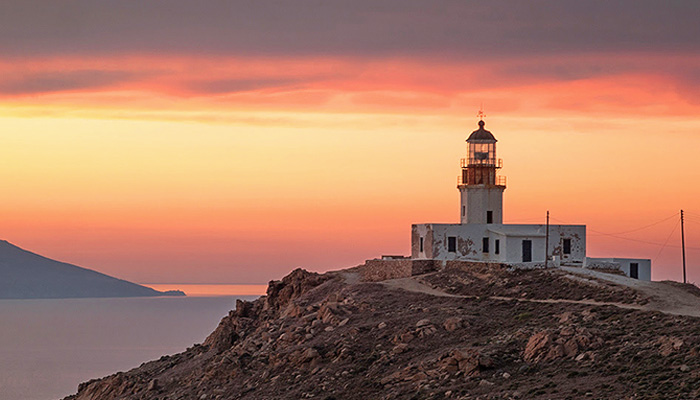 "Armenistis" The Lighthouse. The lighthouse was built in 1891. The height of the tower is 19 meters and the focal height is 184 meters. The mechanism of the original lamp Armenistis was construction SAUTER LEMONIER, awarded by the International Exhibition of Paris and worked at the top of the lighthouse until 1983.
Since then exhibited in the courtyard of the Sea Maritime Museum, housed in a traditional Cycladic building of the 19th century, at the Mykonos Town, in Tria Pigadia. The construction of the lighthouse Armenistis decided after the sinking of the English steamer VOLTA 1887 on the north coast of Mykonos where drowned the 11 crew members. The lighthouse located in the place Fanari a hill formerly called Vourvoulakas, which means Vampire.
There is a story that unfolded at the end of the Second World War when German officers exited the lighthouse where it had turned into an observatory were arrested by a group of young Mykonians. They stayed in history with their feat and even many years later, this incident was the beginning of a true friendship between one of the captured German officers and Kostas Zouganelis, one of the young boys.
To get to the lighthouse you may start from the town with direction to the north. Arriving at Tourlos follow the road to Agios Stefanos (there are signs) and at 300 meters you will find a junction. At left goes to the beach of Agios Stefanos and at the right to the settlement. Follow the left road and after two minutes you will reach the beach. Continuing on the asphalt road and after 50 meters you will find a fork. At right go to Houlakia beach (is here sign) and at left brings you into a wild part of the island in "Vourvoulaka" region.